Dress & Undress, by Elizabeth Ewing

Fashion in Underwear by Elizabeth Ewing

In Style: 100 Years of Canadian Women's Fashion by Caroline Routh
Extensive collection of clear pencil drawing with brief descriptions.

English Women's Clothing by C. Willett Cunnington
Discusses and illustrates everything hosiery to hairstyles in the 19th Century. Thick paperback.
What People Wore by Douglas Gorsline
Pen and ink sketches of all aspects of fashion through time, includes armour, shoes, hairstyle etc.
Corsets & Crinolines by Norah Waugh
1670-1925 - Clear line drawings and some photos accompanied by text from the times.


Racinet's Full Colour Pictorial by Auguste Racinet
A better ref. for designers than for cutters. Detailed colour drawings from 14th - 19th century and covering several countries.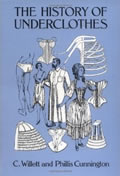 The History of Underclothes by C. Willett Cunnington, Phillis Cunnington, Phyllis Cunnington
1400-1900 - A lot of text and several illustrations and photos, well organized.
Freaks of Fashion: The Corset & The Crinoline by William Berry Lord

Tudor Costume & Fashion by Herbert Norris

Queen Elizabeth's Wardrobe Unlock'd, By Janet Arnold


Metropolitan Fashion of the 1880's by Carol Belanger Grafton (Editor)
Butterick Publishing Co Reproduction of the 1885 Butterick Pattern catalogue with clear detailed drawings
Costume & Fashion
Photos of oil paintings and sculptures depicting fashions of the time, very informative.
Victorian & Edwardian Fashions for Women by Kristina Harris
Photos of actual period clothing modeled by contemporary women.
Underwear: Costume in Context by Rudolf Steiner, Jennifer Ruby
Not in depth, simple line drawings, more appropriate for children. A beginners book.

Victorian Fashion 1880-1890 by Hazel Ulseth
Short time period allows a great deal of detail to be covered.


Costume 1066-1990 by John Peacock
Simple yet detailed sketches with labels. Good for quick period references.
Fur In Dress by Elizabeth Ewing

History of Children's Costume by Elizabeth Ewing
Everyday Dress 1650-1900 by Elizabeth Ewing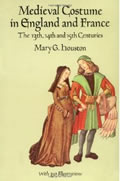 Medieval Costume in England and France: The 13th,14th & 15th Centuries by Mary G. Houston